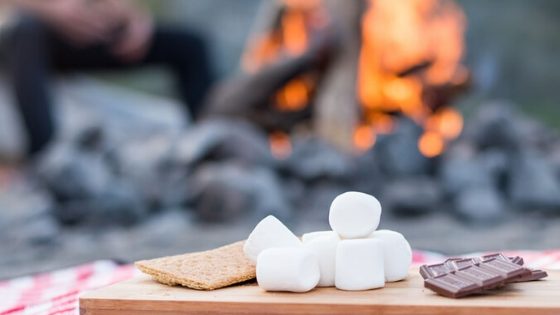 Flagstaff can get downright cold during the winter, and already temperatures are dipping down into the 40s. Of course, while it is colder and the nights are longer, that doesn't mean you should stay inside all season long. Two amenities that residents of our Flagstaff apartments should really take advantage of during the winter are the outdoor fire pit and gas grill. How should they take advantage of them? By hosting a s'mores party, of course!
While entertaining friends as well as family members who come for a visit, you can make use of the cozy stone fire pit, which is the perfect place to relax, especially during those chilly afternoons. And having a bunch of tasty marshmallow and chocolate treats ready to enjoy makes this kind of gathering so much better. Take such a party to the next level with these ideas for hosting a s'mores party:
Tips for Hosting a Stellar S'mores Party
Make sure to order the skewers. The biggest and yet easiest faux pas to make when planning and throwing a s'mores party is to forget the skewers. While last-minute searching for long twigs in the underbrush can lead to some decent alternatives, be a party pro and stock up on skewers beforehand. You can find the simple wooden ones at just about any grocery store, or you can get fancy and order these specialty telescoping marshmallow roasting sticks via Amazon.
Consider raising the bar with these options. Graham crackers, marshmallows, and Hershey's chocolate bars are the obvious staples of s'more making. But why not consider taking it a step further and including a few extra component options like York peppermint patties, Reese's peanut butter cups, Butterfinger bars, and even Starburst candies.
Napkins and drink dispensers. Make sure to have plenty of napkins on hand for your guests to wipe away any excess chocolate. And even if you go BYOB, consider grabbing a big water jug or something similar for those who forget or who otherwise need a fresh swing of water to wash down the s'mores.
Looking for an Apartment Loaded With Amenities? Your Search Has Ended
Woodlands Village is currently accepting new resident applications, so if you're on the hunt for apartments in Flagstaff with plenty of amenities, then contact us today!