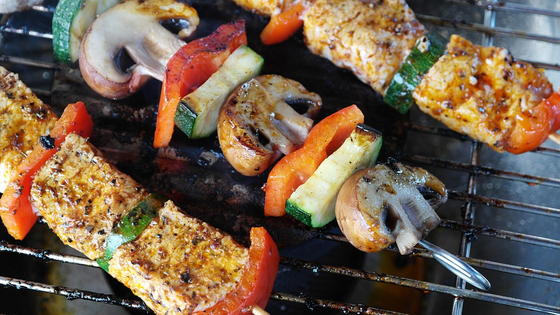 Autumn temperatures are still high in Arizona, which means it's still possible to log some cooking time on the grill! Our beautiful apartments in Flagstaff offer our community a gas grill that can be used once it is reserved through the front desk. We've compiled a list of delicious recipes using in-season fruits and vegetables.
Autumn Seasonal Fruits & Vegetables
Arizona boasts a wide range of fruits and vegetables that are in season during autumn, including:
Arugula

Basil

Beets

Bok Choy

Broccoli

Carrots

Dates

Green Onions

Lettuce

Pumpkins

Squash

Tomatoes

Turnips
The above list can be used to create incredibly delicious sides that accompany a range of meats and seafood.
Beef With Sides Recipes
This simple recipe combines beef filets with tomatoes, onions, and romaine to create a simple yet tasty autumn dish. Everything is prepared on the grill, so you can gather what you need in your kitchen before heading down. Bring dishes and utensils so you can enjoy your meal hot off the grill. Top the dish with basil to add a hint of freshness to the juicy steak and tomatoes.
Poultry With Side Dishes
For those who enjoy Asian flavors, this grilled bok choy recipe is a perfect way to retain the crispy nature of the vegetable. Combine it with sesame grilled chicken and jasmine rice for a complete dish. Don't forget the sodium sauce!
Seafood and Salad
Create a tasty, exciting salad with grilled shrimp along with grilled beets and carrots. Combine the grilled items over your favorite salad base and top with lemon juice. If you want additional elements in the salad, add tomatoes, onion, and goat cheese to the mix.
Apartments That Make You Feel at Home
Our Flagstaff apartments are perfect for individuals looking to feel at home. Our amenities and community allow you to grill outside next to the pool. Contact our friendly staff today to see what floor plans we currently have available.