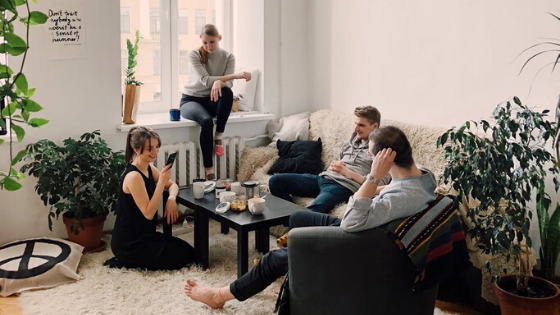 Hosting a get-together for loved ones and friends is one of the benefits of having your own place. Of course, you want to make sure that everyone is comfortable and has a good time. Consequently, you may be wondering how to create a space for entertaining guests in your Flagstaff apartment.
The good news is that there are a few basic steps you can take to ensure your guests are cozy and your space is warm and inviting.
Arrange the Seating Area
Position chairs, stools, poufs, your couch, and loveseat around a focal point such as a coffee table if you want a conversation or board game area. Alternatively, make a screen the focal point if you want to set up a place for gamers or a movie night.
Make Space for Your Guests' Belongings
Flagstaff apartments are a lot more inviting if there's room for your guests' things. You can clear out a hall closet to provide a safe place to stash their belongings. Also, consider arranging coffee tables, bookshelves, and end tables so that your guests have a place to sit their drinks and plates. It's nice to have easy access to a trash can as well.
Be Realistic About How Many People You Can Accommodate
No matter how you arrange your space, there's a limit to how many people you can fit comfortably in your apartment. Determine that number ahead of time. What's more, you can use disposable plates and silverware and prep all the food and drinks ahead of time. The less you have to do, the better. It means you'll take up less space too.

Are you looking for an apartment in Flagstaff, AZ? Woodlands Village offers residents amenities including a clubhouse, grills, firepit, and pool. Get in touch today to find out which floor plans we have available.