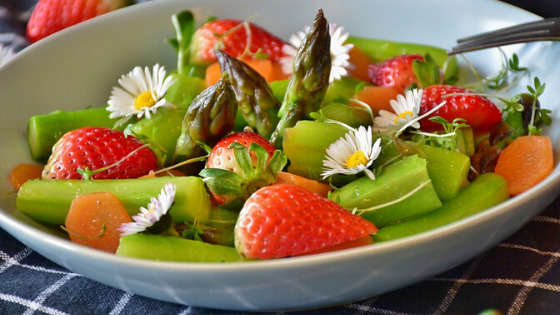 With the arrival of spring, everything gets a bit more colorful. Plants and flowers bloom in a kaleidoscope of colors, the sky seems to be more blue than usual, and even our plates brighten up a bit. Shades of green overwhelmingly replace the dark oranges and purples of fall and winter vegetables, and dishes are crisper and lighter, too.
Our Flagstaff apartments offer residents the opportunity to experiment in the kitchen with spring's brightly-colored veggies. Here are some fresh ways to incorporate three of the season's most popular vegetables into your spring meals.
Asparagus
Easy to find and delicious no matter how it's prepared, asparagus is versatile and incredibly good for you. It's low in calories but nutrient-dense, so you get a lot of bang for your nutritional buck. This recipe is super simple, but presents the asparagus in a less-than-typical way, giving it a modern twist.
Sugar snap peas
They may not be at the top of your snack foods list, but snap peas are light, tasty, and easy to prepare, making them a perfect go-to for when hunger strikes. As a bonus, sugar snap pea plants can be grown indoors. This fresh take on a salad is packed with fiber and takes less than five minutes to prepare, and the addition of mint in this recipe elevates an otherwise-average dish.
Green beans
Typically just served with butter, there's a lot more to green beans than meets the eye. They're an excellent source of nutrients and can be prepared (quickly!) in any number of ways. Try this sweet-and-sour version or even pickle them for a refreshing, healthy snack.
With so many tasty spring vegetables to choose from, it might be difficult deciding on how to cook them! At our apartments in Flagstaff, AZ, community members enjoy open floor plans and spacious kitchens. Give us a call or contact us today to see our available floor plans!